A popular Jamaican appetizer, these flavourful fritters made with salt cod and are also tasty served with a spicy pepper sauce.
My mother used to make these saltfish fritters almost every Sunday morning when I was growing up. We'd have to make sure we woke up early for breakfast otherwise between the five of us kids, they'd be gone in minutes! I guess you can say it's tradition, because saltfish fritters are something that her grandmother always made for her large family when my mother was a child growing up in Jamaica.
Salfish fritters (also known as Stamp & Go) are a quick dish to make. It can be part of a larger breakfast dish or even a lunchtime snack. The saltfish used in this particular recipe is salted cod: fresh cod fish that has been preserved by being salt-cured and dried.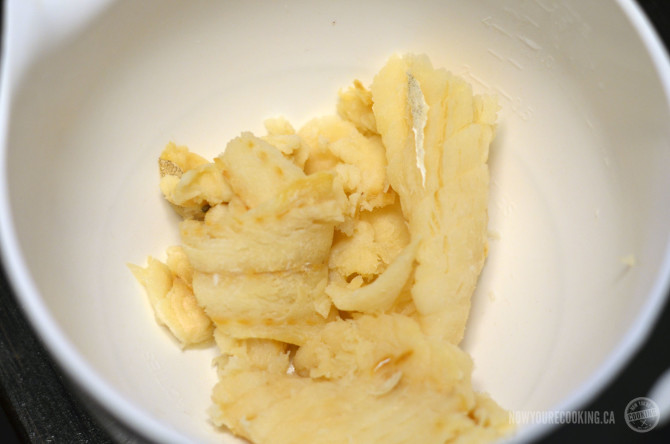 Since all the moisture has been extracted from the fish through the use of salt, it needs to be rehydrated prior to any use in a recipe. Putting saltfish in a bowl of water and storing it in the refrigerator overnight helps with this process. You can also opt to boil the saltfish for a few minutes (drain and repeat if necessary) if you're low on time. Afterwards, be sure to taste a bit of the saltfish to make sure that enough salt has been removed.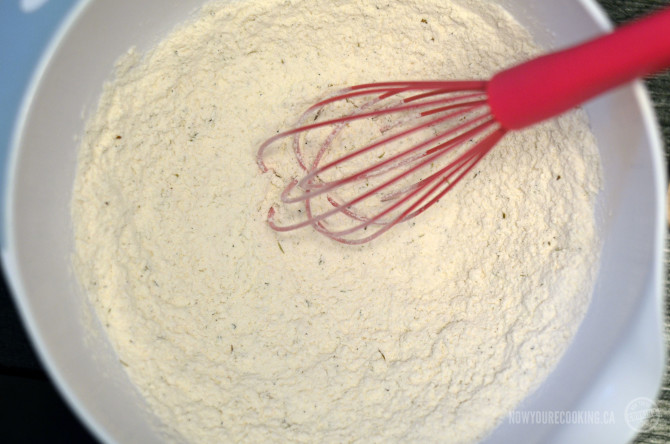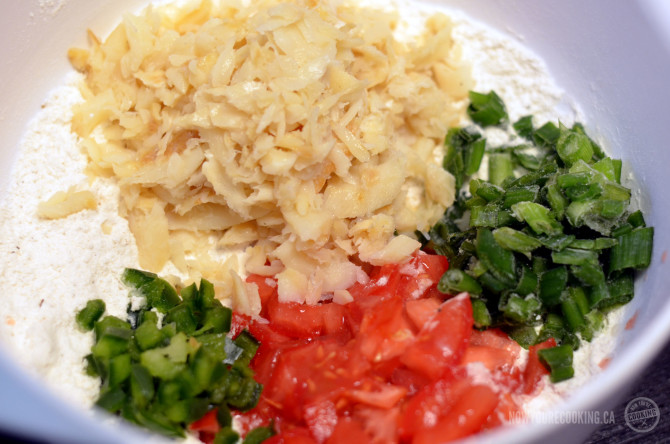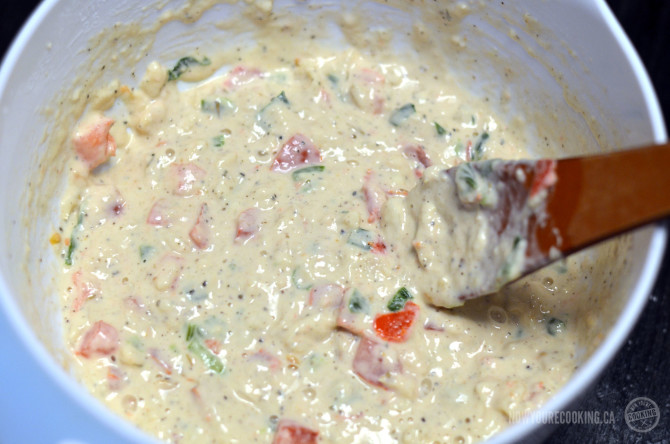 You can find salted cod in almost every grocery store near the seafood counter. I like to buy the one that has already been de-boned and cut into pieces (saves a lot of time, because biting into a fish bone is no fun).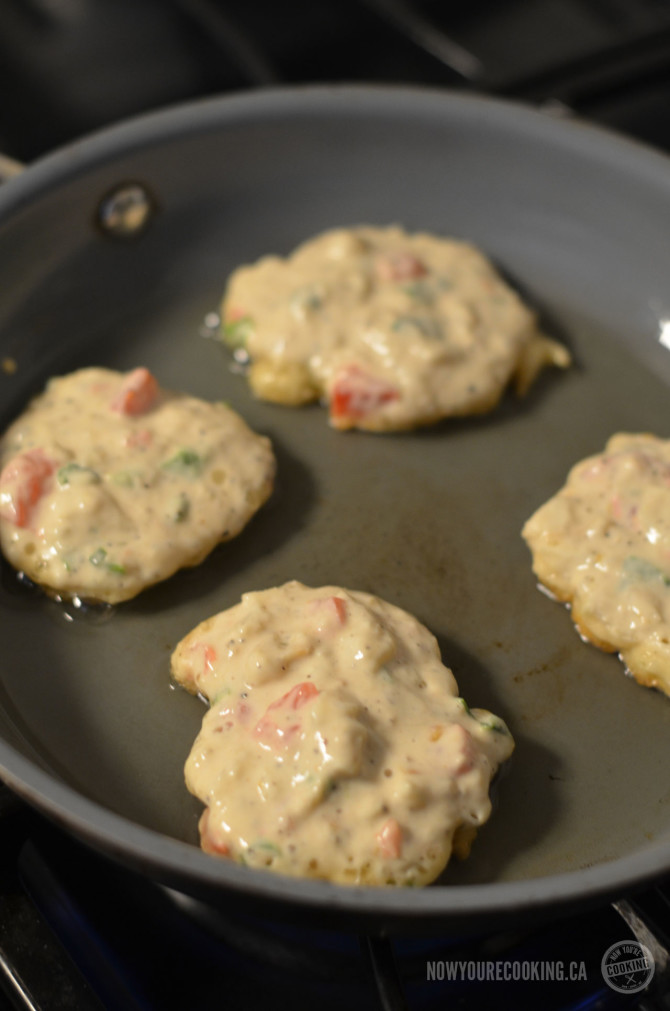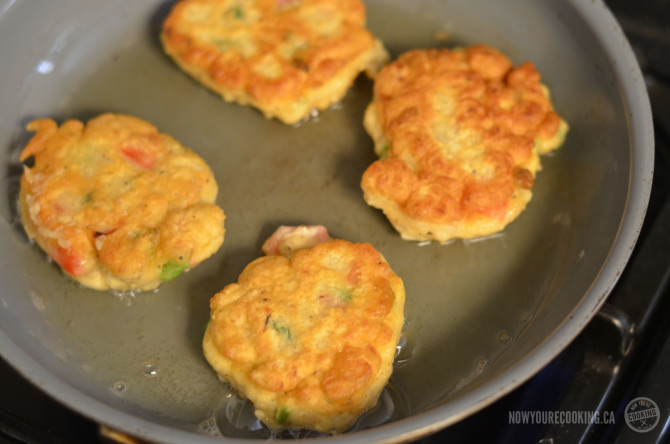 I tweaked the recipe a bit from what I came up with before by adding an egg and some minced hot pepper. Traditionally, my mother never used any eggs in this recipe. The fritters taste just as good without it (has more of a "pancake" feel), but I like the addition of the egg because it helps puff up the fritter a bit and adds to the crispy coating.
As for the scotch bonnet pepper (one of the spiciest peppers out there, so wear latex gloves when you're chopping it), this is optional but using it will add an extra zing to your fritters. If you don't have a scotch bonnet pepper, feel free to use a jalapeño pepper or sprinkle in some red chili pepper flakes. You can also opt to leave out the pepper and just offer some spicy pepper sauce as a dip for these tasty fritters.
I doubt there will be any left on the serving plate, but if there are any leftovers store them in a resealable container in the fridge and just heat them up in the microwave for 20 seconds.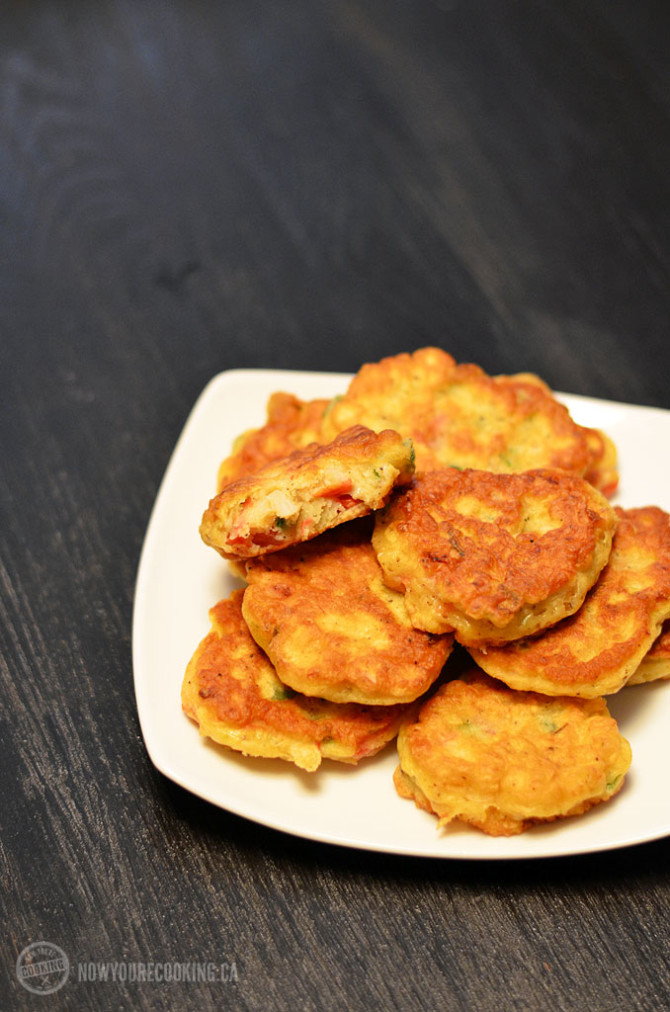 Monique Creary
Yields about 16 fritters
Jamaican Saltfish Fritters (Stamp & Go)
A popular Jamaican appetizer, these flavourful fritters made with salt cod and are also tasty served with a spicy pepper sauce.
20 minPrep Time
20 minCook Time
40 minTotal Time
Ingredients
200 grams salted cod, boned
1 1/2 cups all-purpose flour
1 1/2 tsp baking powder
1 tsp dried thyme leaves
1/2 tsp salt
1 1/2 tsp ground black pepper
1 tomato, diced
2 scallions (green onions), finely chopped
1 scotch bonnet pepper, seeded and finely chopped
1 large egg
3/4 cup water
oil for frying
Directions
Place the salt cod in a saucepan filled with enough water to cover the fish. Bring to a boil, then reduce the heat to a simmer. Cook for 5 minutes, then drain and rinse under cool water. Taste a bit of the fish to guage the saltiness. If it's still too salty repeat the boiling process again with fresh water until the fish is at the salt level you like (up to 3 times). Flake and shred the fish into small pieces and set aside.
Whisk together the flour, baking powder salt and pepper into a large bowl.
Add the diced tomatoes, flaked cod fish, green onions and chopped pepper to the dry ingredients, using a spoon to incorporate.
Lightly beat the egg and add it to the water. Combine the wet ingredients with all the dry ingredients. Add a bit more water if needed (should resemble a thick pancake batter consistency).
Heat a large skillet over medium heat. Pour in enough oil to cover the bottom of the pan. When the oil is hot drop rounded spoonfuls of the batter into the skillet. Fry on each side until golden-brown and crisp (about 3-4 minutes per side).
Drain on paper towels. Serve hot.
Notes
Prep time for this recipe calls for 20 minutes. This is for the boiling method of de-salting the cod fish. If you prefer, you can soak the cod in cold water overnight in the fridge (four hours minimum) in order to re-hydrate it and remove the excess salt, instead of using the quick-boil method.
7.6.7
6
http://nowyourecooking.ca/2015/05/jamaican-saltfish-fritters-stamp-go/