The first time I tried risotto, I didn't know what I was eating. That's mainly because the restaurant was pitch black (check out O.Noir if you haven't been there yet). My other senses were heighted and I found that the tomato-based risotto was delicious. I couldn't wait to try it again (with lights on this time).
On the other hand, I had tasted Arancini at another restaurant, but they were just named "rice balls" on the menu (doesn't sound quite as delicious as "Arancini di Riso, does it?). The fact that they were breaded and fried made these little morsels taste even more appetizing.
The thing with risotto (as well as a lot of dishes) is that it never tastes as good as it does when it's first freshly made. So I decided to try my hand at making arancini with the leftovers the following day… So good!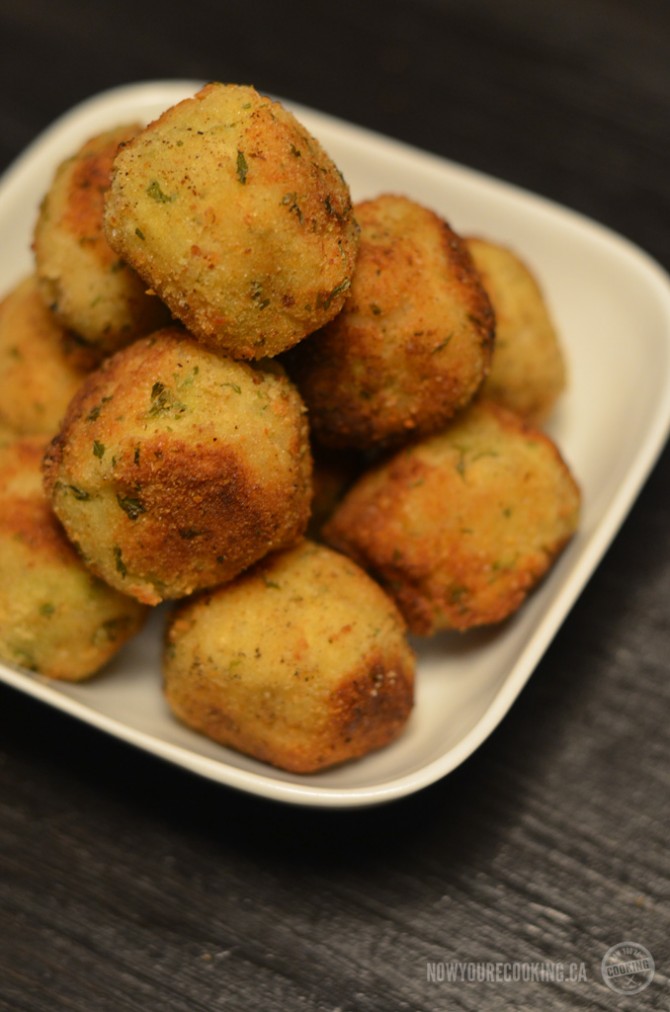 Arancini is an easy dish to make if you want to use up your risotto leftovers. I know, I should've posted the recipe for risotto itself, but I usually wing-it when it comes to recipes like that, so I didn't have time to write out all the ingredients. I ended up using a bit of apple cider vinegar because I was too cheap to crack open a fresh bottle of white wine, threw in some chopped apples that I forgot was in the fridge, some fresh Parmesan cheese and a can of peas I had just bought (it was still quite tasty, I assure you)!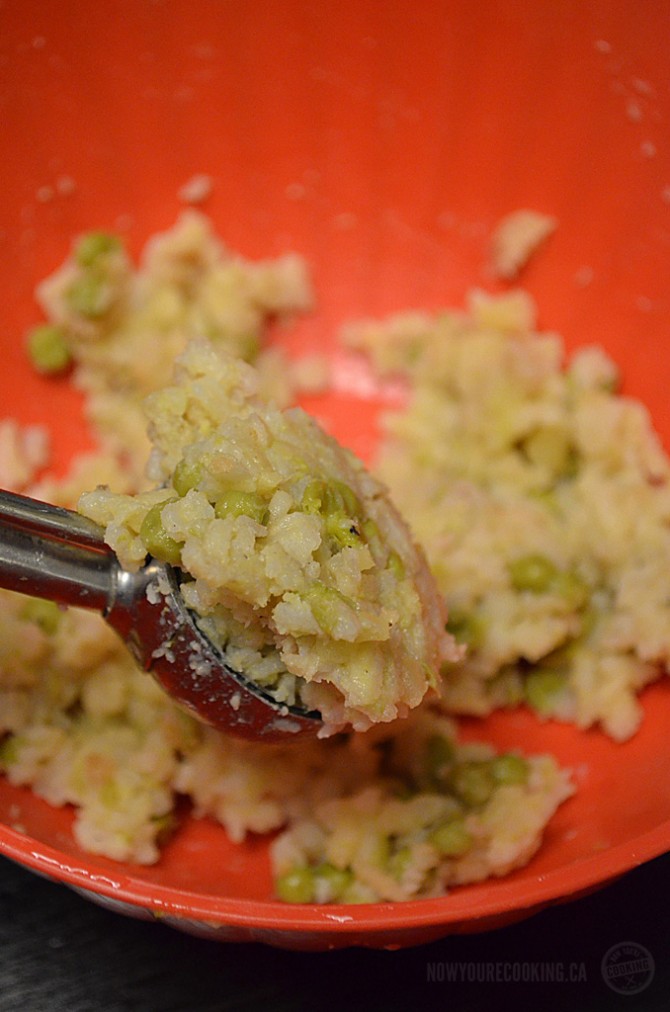 So if you want a basic risotto recipe to try so that you can make arancini at home, try this recipe by Jamie Oliver (yeah, I know he's not Italian, but it's the first recipe I used to make risotto at home, and it was pretty easy to follow).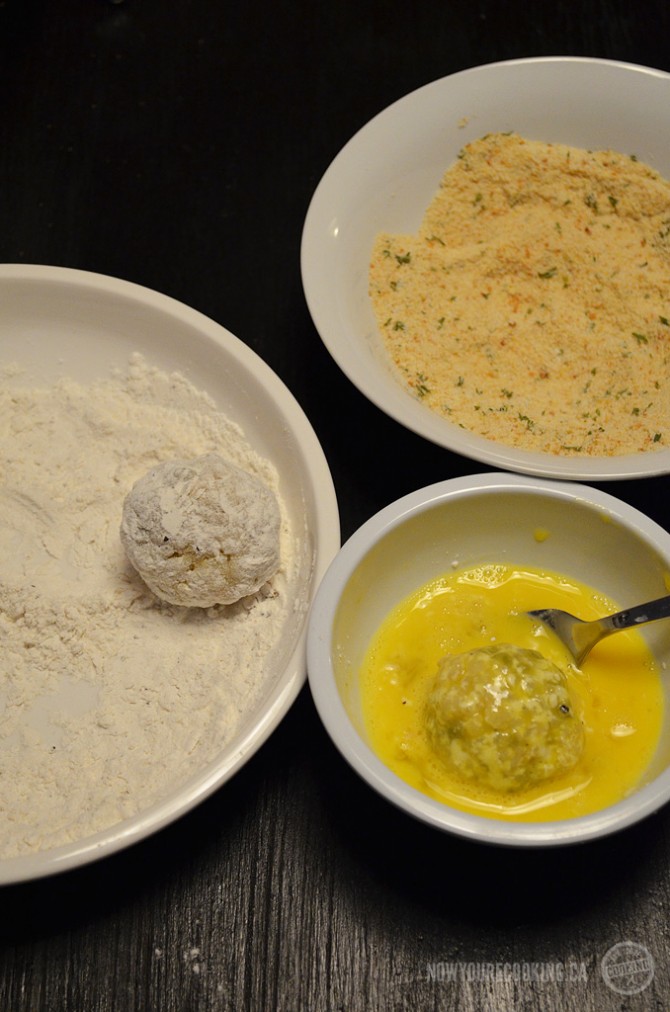 When I made these arancini, I stuffed each risotto ball with a small square of mozzarella cheese. I set up my dry-wet-dry breading station, and dipped the water-moistened risotto into the flour, then beaten egg, and finally the seasoned breadcrumbs, it will help create a nice, crispy coating. I made my own "Italian" seasoned breadcrumbs by mixing unseasoned breadcrumbs with a few teaspoons of dried parsley, garlic powder, Parmesean cheese, salt and pepper (feel free to add dried basil, oregano, and/or onion powder too).
I love my OXO cookie scoops, so I used my medium-sized one to make the measuring process easier. I don't like using a lot of oil in my cooking, so instead of deep-frying these, or filling up my cast iron pan with a couple cups of oil, I just put in enough to cover the bottom of the pan.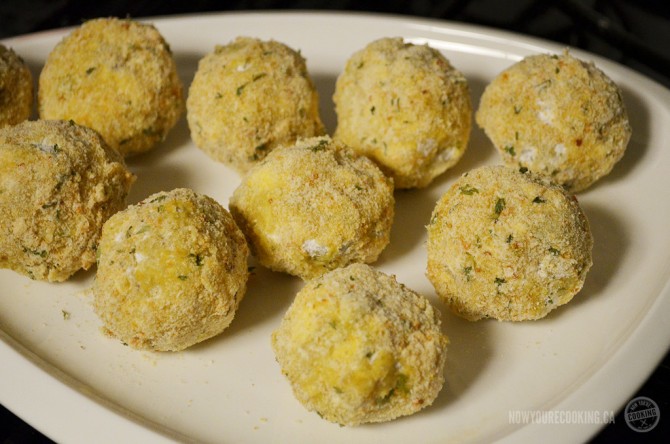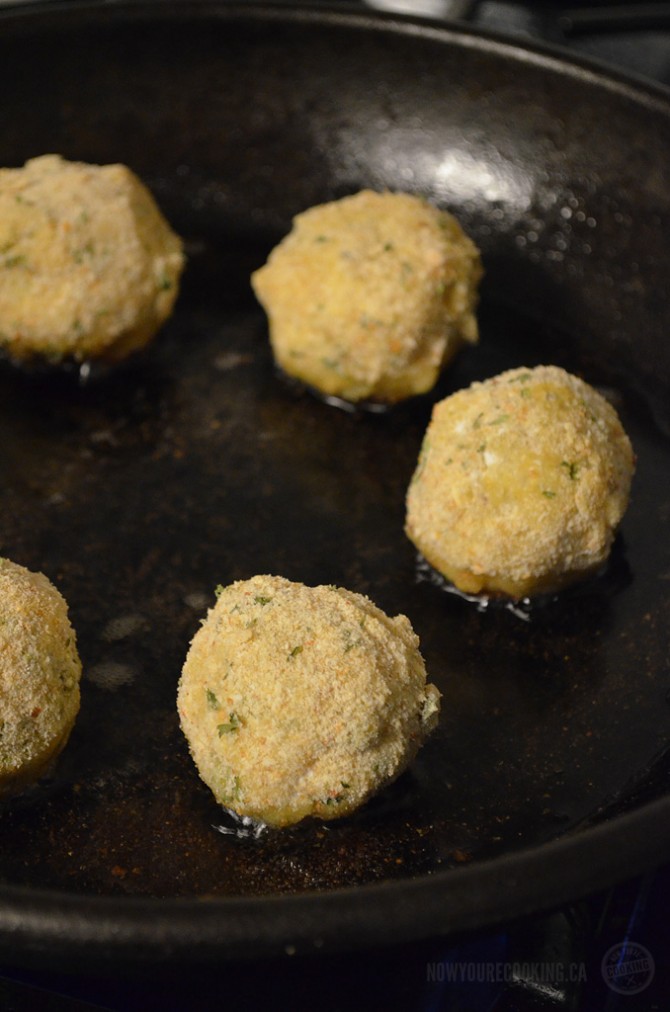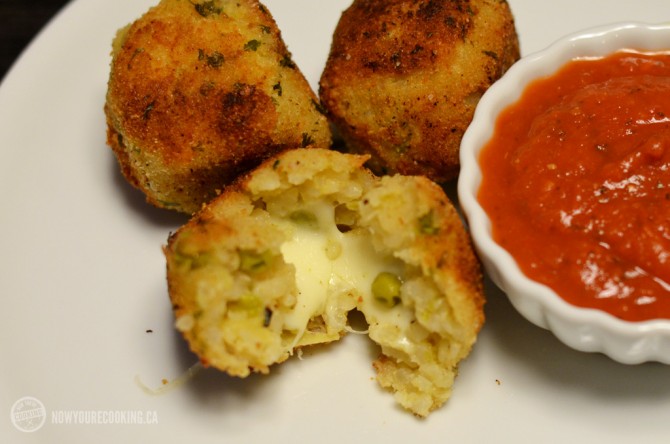 These arancini make a great appetizer and are perfect served with some marinara sauce on the side (I used some pasta sauce I had left over in the fridge from the previous week).
After cooking arancini again, I'm wondering about other types of leftover rice or pasta that can be rolled and fried… Mac and Cheese balls anyone? 😀

Monique Creary
Yields 18
Arancini (Stuffed Rice Balls)
If you've every wondered what do to with that leftover risotto you made the other night, stuffing, breading and frying them into savory arancini (rice balls) will put new life into your meal.
15 minPrep Time
15 minCook Time
30 minTotal Time
Ingredients
4 cups (600g) cooked risotto (cooled)
1 cup (100g) mozzarella cheese (cut into 1/2 cubes)
1/4 (35g) cup flour
1/2 cup (45g) seasoned breadcrumbs
2 eggs (lightly beaten)
1/4 teaspoon salt
1/4 teaspoon pepper
oil, for frying (canola or avocado work well due to their high smoke point)
marinara sauce or pasta sauce for dipping
Directions
Scoop about 2 tablespoons of the cold risotto into your palm and gently roll into a ball (wetting your hands slightly helps with this process). Gently push a cube of the mozzarella cheese into the centre of the ball, then re-roll, making sure to enclose the cheese. Place on a lined baking sheet (or large plate) and repeat with the remaining risotto and cheese.
Set up your breading station by placing your flour (with the salt and pepper), eggs and seasoned breadcrumbs in separate, shallow bowls.
Roll each arancini into the flour first, shaking off any excess. Then dip into the eggs, then the breadcrumbs, pressing to coat. Place back on the lined baking sheet and set aside.
Heat a large, heavy-bottomed skillet over medium heat. Fill with enough oil to cover the bottom of the pan (about 1/4 inch). Working in batches (placing no more than 6 arancini in the pan at a time), fry each side of the arancini until golden brown (about 4-5 minutes).
Transfer to a plate lined with a paper towel to help absorb some of the extra oil.
Serve with marinara/pasta sauce for dipping.
Notes
If you don't have risotto, you can try using a different type of rice (results may vary). Short grain rice (like sushi rice) would be the best alternative because it's more glutinous than long grain rice and easier to shape for this recipe.
http://nowyourecooking.ca/2016/01/arancini-stuffed-rice-balls/