So today is my birthday. I don't feel bad about my current age, but let's just say when it comes to filling out online forms I have to get used to selecting a new category on those drop-down menus now.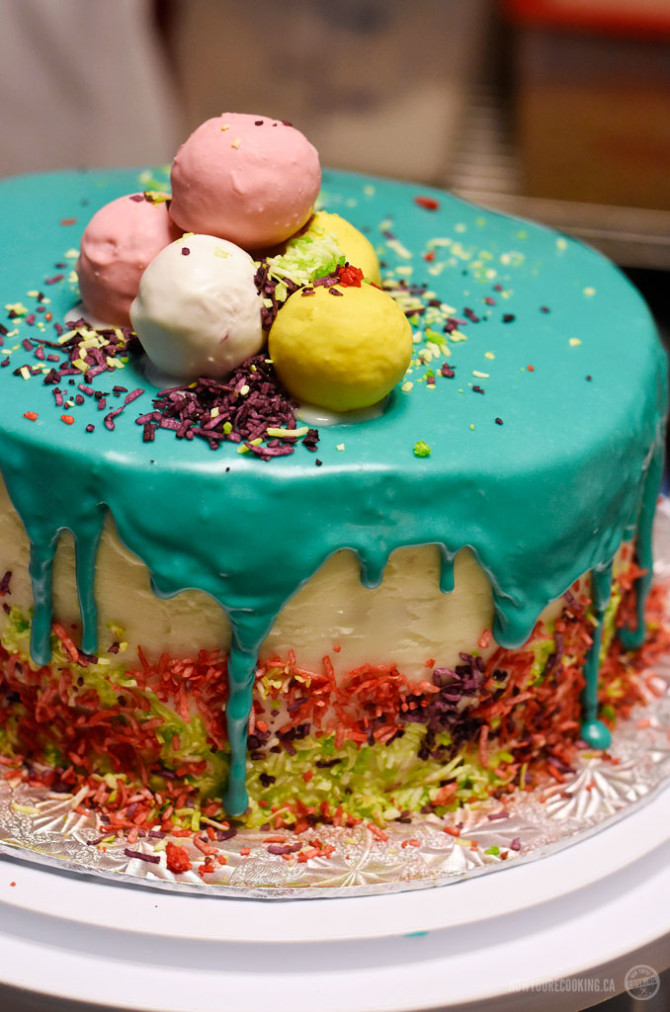 That aside, I was actually excited to bake and decorate a cake this year. I celebrated with dinner and a movie with a bunch of friends and family and had an amazing time. It was an honour to have them all there and enjoy a slice of this soon-to-be favourite homemade cake.
In the past I've baked dark chocolate mud cakes and white chocolate mud cakes (these are firm cakes and hold up fondant well). But wanted to switch it up a bit this year. I had a lot of coconut flakes in my pantry, so I decided to give this year's cake a tropical spin (both the colours and the flavours). I also added buttermilk and coconut milk for extra moisture. Unsweetened coconut flakes were folded into the batter prior to baking.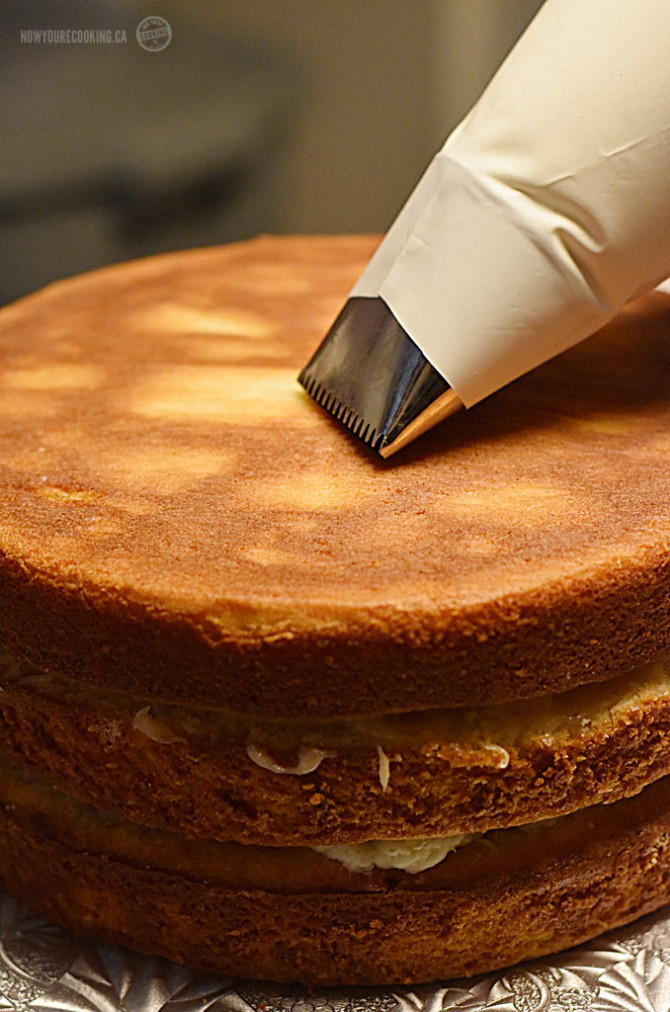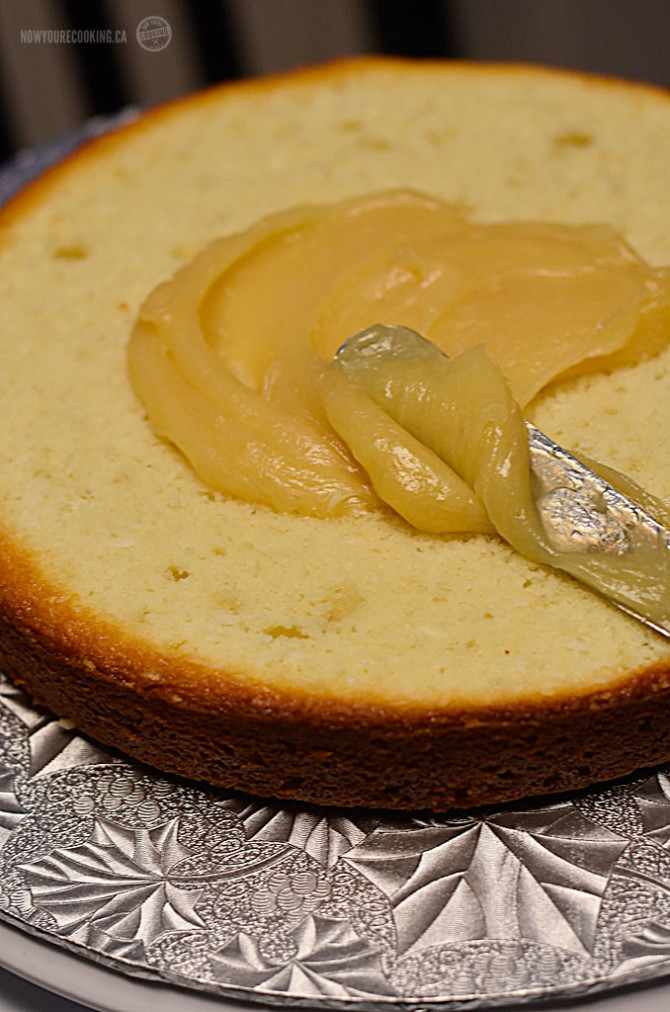 Now I'm still trying to improve my baking skills (actually I'll be starting a baking course at George Brown College very soon), but I know the know the ingredients and ratio for a basic cake. Should I have followed an existing recipe for this cake, rather than wing it with something I basically guessed on and hope that I didn't leave a bad taste in my friends' mouths at my birthday party last week?
Maybe. But I'm a risk taker! I crossed my fingers and hoped that my guesstimations and experiment with this cake turned out well.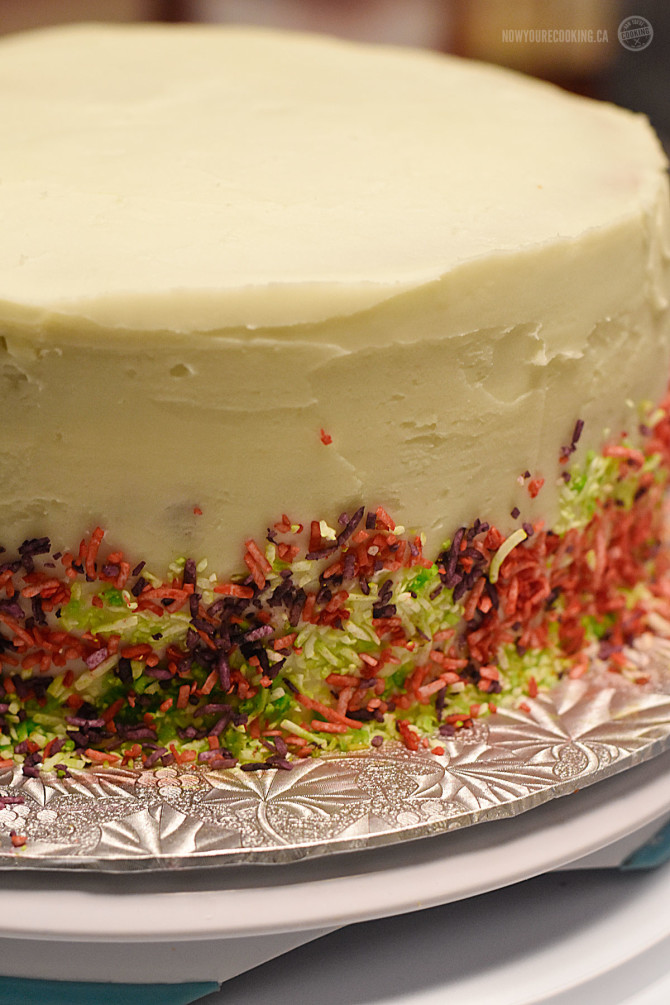 The verdict was unanimous. Everyone who tried a slice loved it. I'll be posting the recipe soon, because I'll definitely be making this again (minus all the fancy decorations).
I veered away from fondant this time around, because it can be a pain to work with, and I was short on time for decorating (less than 2 hours). I baked the cake Friday night and popped them in the fridge. Iced and decorated Saturday afternoon after whipping up a quick buttercream frosting, and a white chocolate ganache. My Wilton Cake Decorating set sure comes in handy.
I was going to fill all three layers with buttercream, but after making the cake pops as toppers, I didn't have enough. So I opted to fill with a lemon curd (which pairs well with coconut), and lightly frost the cake with the buttercream I made with a mixture of butter and shortening.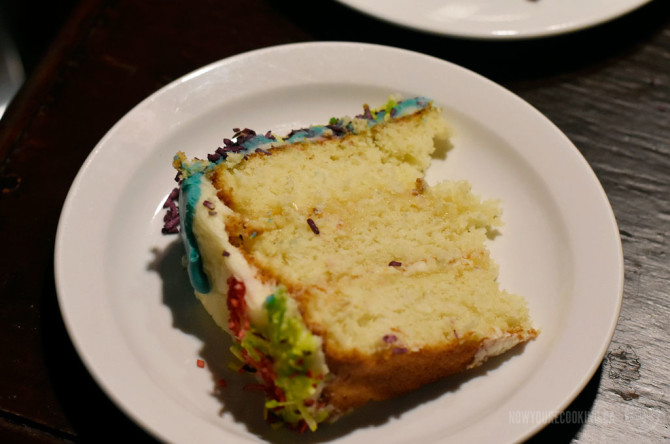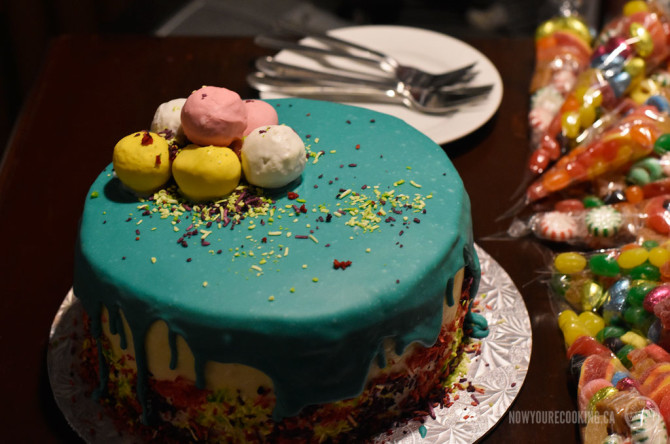 I was inspired by Katherine Sabbath's cakes for a while (be sure to check out her Instagram account for cool photos of her creations). Her cakes are gorgeous and unique in style. Plus I figured I can cover up my not-so-stellar piping skills with a neon ganache, I'd be good! 😀 I also got my sister and friend to help with colouring the sweetened coconut flakes and rolling the cake pops on top (thanks Michelle and Cheryl!). I think it came out looking pretty stellar (<–I think I just dated myself by using that word).
One more candle on the cake. One more cake in the recipe books. 🙂