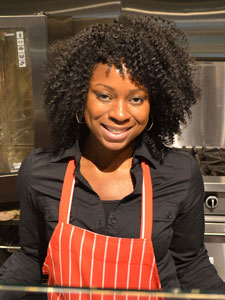 Now You're Cooking is your portal to the culinary world. Whether you're a novice cook who's never stepped foot in the kitchen or an avid amateur chef, Monique will be able to give you a fresh take on cooking with ethnic flavour, while sharing creative tips that will save you time in the kitchen, and make mealtime a less daunting chore–all in the comfort of your own home.
About Monique
My culinary journey began fresh out of the womb. Okay, perhaps not that early, but from a young age I remember loving to help my mother out in the kitchen I was always an avid watcher of food-related shows on television, and often attempted to recreate those recipes on my own.
Some 20+ years later by 5-minutes of culinary fame came true as I was selected to be a contestant on the second season of the W Network reality show Come Dine With Me Canada. An enlightening experience, I know I impressed many with my delicious dishes that were all made from scratch.
I pride myself of becoming familiar with international food. This world has a lot to offer. Stepping out of your comfort zone when it comes to food can be a big step, but it's worth it when you can taste the myriad of flavours that can be easily available to you in a multicultural city like Toronto.
I've taken chances at making satisfying meals like sushi, added a little spice to my palate through various Indian dishes like tandoori chicken, taught myself how to fry up some tasty arepas after tasting some at a local Latin festival, and learned how to bake some sweet, Caribbean desserts such as rum cake and cassava pone. Of course, there's nothing wrong with making a simply-seasoned steak, fries and a side of salad from scratch.
I love to cook. I'm a self-taught–I didn't go to a fancy culinary school. But my passion for food is visible in the creations that come out of my kitchen. My mission is to help bring people back to the dinner table (instead of towards the drive-thru), and encourage a healthy love of food through effective "mise en place", while sharing the cooking process with family and friends.
Being in the kitchen and having friends and family enjoy my recipes truly makes me happy.  I decided to start Now You're Cooking to help channel my innate desire to learn, create and teach.
I'm a full-time high-school teacher. I taught technology courses for several years, and more recently began teaching culinary skills to students with autism. Being able to easily fuse my skill-sets, career and hobbies is a blessing, and I'm eager to pass some of that knowledge to you.
Getting down to the basics of food is not that difficult. This is what I'm hoping to teach with my cooking classes. Too often things like frozen pizza and TV dinners are the go-to meals for individuals and their families. But with some tips on organization and technique, I hope to teach you ways in which you can eat a little healthier, in a time-frame that works for you, while still enjoying the foods you love.