This Thai-inspired meal takes only 20 minutes to make. With the presence of extra-lean ground chicken and crunchy iceberg lettuce, these Thai Chicken Lettuce Wraps are definitely light on calories and heavy on flavour!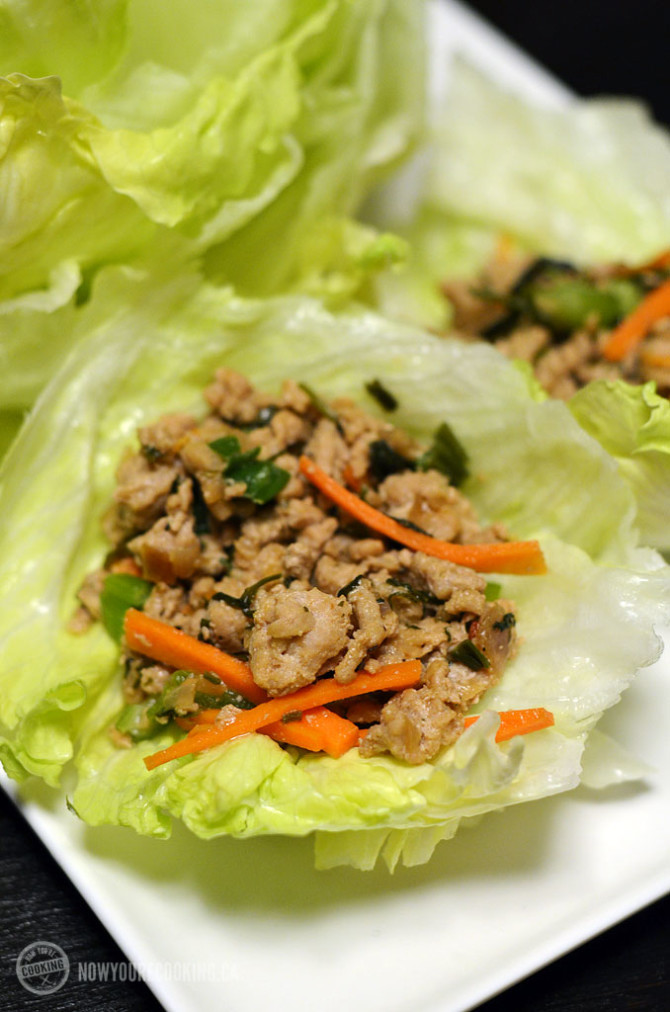 I've been on a bit of a health kick for the past few months, so changing up my meals has taken a lot of creativity and exposure to new food. I've always been a fan of Thai food (I could live off of mango salad), but haven't cooked with that influence as much as I'd like. So in an effort to add more greens to my diet and reduce meal prep time, I decided to cook up a some Thai chicken lettuce wraps.
I usually wrap my meat dishes with tasty tortillas or pita bread. But in an effort to reduce the extra carbs and calories I opted for a meal with iceberg lettuce as a "taco-style" wrapping.
Initially I was thinking about using cabbage instead. Both cabbage and lettuce are very low in calories, with iceberg lettuce coming in at about 50 calories a head complete with vitamin A. A small head of cabbage has about 170 calories and contains a bit more fibre and vitamin C. Went with lettuce this time around because I fell in love with the delicious crispy shrimp lettuce wraps that I recently had at Red Lobster. 🙂 But you can try this recipe with napa cabbage, Boston lettuce or radicchio if you want to experiment.
The ingredients for this recipe are very simple. As long as your nearby grocery store has an "international aisle" you should be able to find the hoisin sauce and rice vinegar easily in the Asian section. For those of you who haven't heard of hoisin sauce, it's commonly used in Chinese cuisine. It's made from fermented soybeans, sugar, garlic, vinegar, salt and spices. This "Asian barbeque sauce" is very thick and dark in colour, and frequently used in stir-fries and marinades. I used seasoned rice vinegar for this recipe as it's a bit sweeter, has more flavour and has less acidity than the regular kind.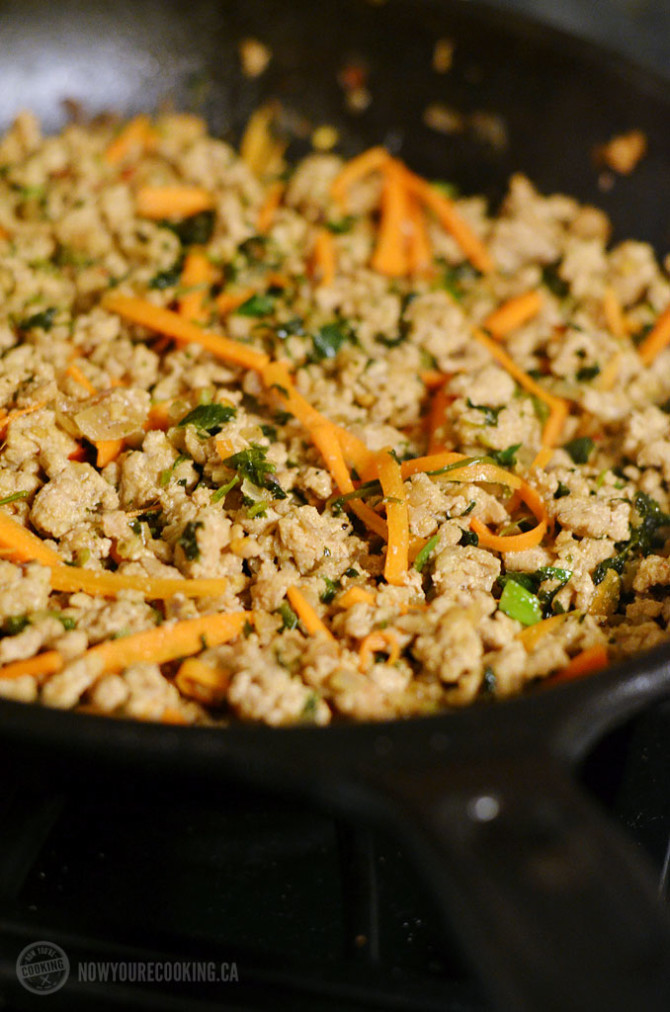 These Thai lettuce wraps are quick to make. You can have a healthy lunch or dinner ready in less than 30 minutes. For the iceberg lettuce, after I trimmed and cut out the core (or you can use this technique from Saveur.com), I peeled the leaves off while it was submerged in a large bowl filled with cold water (this will help prevent the leaves from tearing and keep it crisp). Drain the head of lettuce a bit before serving to get rid of the excess water.
The meat filling took less than 15 minutes to cook. I tossed in some julienned carrots, cilantro and scallions after it was off the heat and sprinkled in a bit of lime juice for an extra kick. If you like things spicy, feel free to add a bit more red chili flakes into the dish while the meat is cooking or drizzle with sriracha (my personal fave).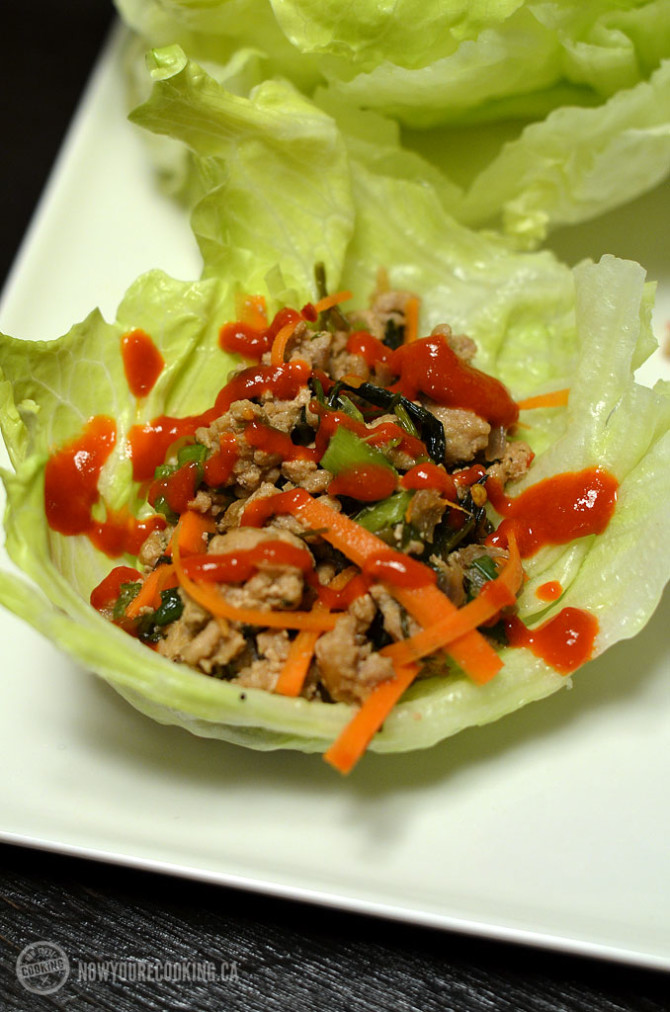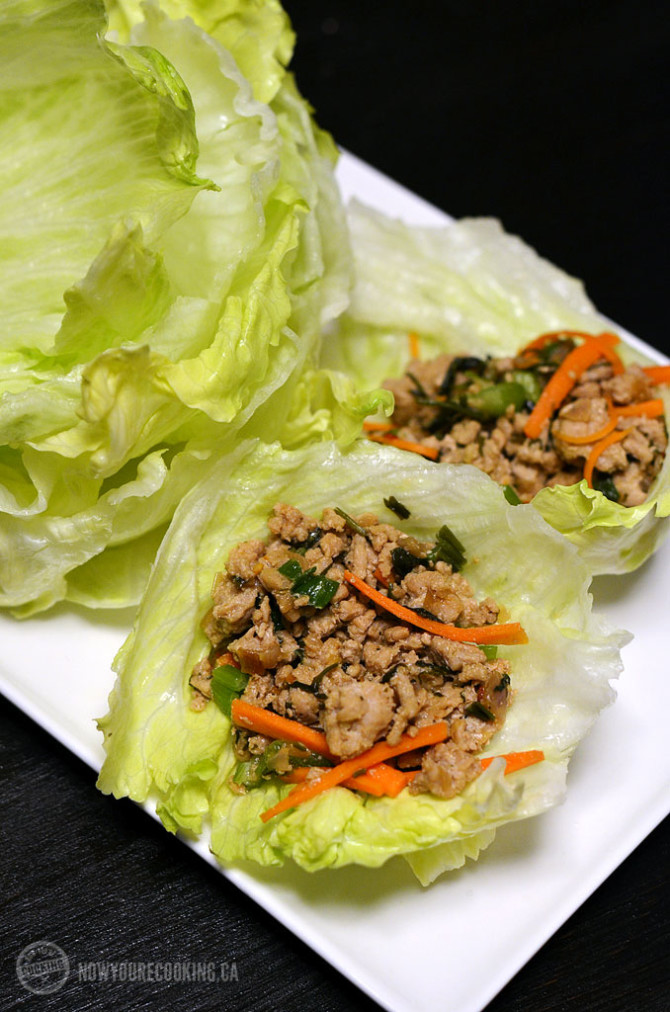 The entire meal makes about 4 servings–about 5 wraps per person depending on how you peeled your lettuce. Super-tasty and a healthy option, especially for people who like to eat with their hands.
Monique Creary
Thai Chicken Lettuce Wraps
This Thai-inspired meal takes only 20 minutes to make. With the presence of extra-lean ground chicken and crunchy iceberg lettuce, these Thai Chicken Lettuce Wraps are definitely light on calories and heavy on flavour!
10 minPrep Time
10 minCook Time
20 minTotal Time
Ingredients
400g extra-lean ground chicken
1 large red onion
1 teaspoon garlic (minced)
1 teaspoon ginger (minced)
1/2 teaspoon red pepper flakes
1 tablespoon canola oil
2 tablespoons hoisin sauce
1 tablespoon soy sauce
1 tablespoon seasoned rice vinegar.
1/4 cup fresh cilantro (chopped)
2 scallions (finely chopped)
1 carrot (julienned or finely sliced)
1 teaspoon lime juice
sriracha sauce (optional)
Directions
Heat oil in a wide saucepan over medium-high heat. Add in the chopped onions and ginger. Cook for 3 minutes, or until slightly softened. Add in the minced garlic and continue to cook for 1 minute more.
Add the ground chicken to the pan and cook for 5 minutes, using a wooden spoon to break the chicken into smaller pieces until it's partially cooked through. Drain the excess liquid from the pan and return to heat.
In small bowl, mix together the hoisin sauce, soy sauce and rice vinegar. Pour the sauce into the chicken mixture and continue cooking for about 3-4 more minutes.
Remove the pan from the heat and mix in the cilantro, carrots, lime juice and scallions (green onions).
Spoon about a 1/4 cup into each lettuce leaf and serve topped with sriracha sauce.
Notes
Save even more time by using the bottled, pre-minced ginger and garlic. Try using a box grater to slice your carrot instead of using a knife to finely chop it. You can also top these lettuce wrapped with some chopped cashews for some extra crunch.
http://nowyourecooking.ca/2015/04/thai-chicken-lettuce-wraps/